Is a new landscape or a landscape upgrade worth the investment?
Over the years, we have gotten this question very frequently. It is no secret that quality landscape work is not a cheap commodity, but we would argue that it is worth it. Here's why:
Real estate agents agree that you can raise the value of your home on average from 5-20% just by having a clean, well designed and maintained landscape. The landscape around your home can be likened to wrapping paper with your home serving as the present. You want to make sure that your landscape is attractive and supports the visual interest of your home. People tend to buy homes that require the least amount of alterations. A home that has an upgraded, well-maintained landscape will definitely be more appealing than a home that still has the landscape installed by the developer, especially if it was not maintained. Remember that your landscape is the first and last thing potential home buyers see.
Keep in mind that when we use the term landscape, we are not just talking about trees and shrubs. We are talking about everything outside of your home. Paver patios and driveways, firepits, retaining walls, pergolas, and, of course, plants, all add to the value of your home. Hardscape items, like pavers, rockwork, and arbors, tend to give you a more immediate ROI than plants. This is because softscape items need time to grow. We are certainly not suggesting that plants do not offer a return on investment, simply that it might be less immediate. In fact, plants are one of the few things on your property that gain value over time. A large, healthy tree is worth much, much more than a sapling.
This is also important to remember: If you are going to sell your home in the near future, the sooner you install new landscape, the better. Plants are rarely installed full grown because it is very expensive. Instead, smaller plants are installed and overtime they grown in to create a full, complete landscape. The longer your plants are in the ground, the larger and fuller they will be, and, therefore, the more value your landscape will command.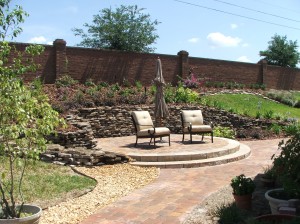 Maybe you are not thinking of selling your home right now or perhaps you are a new homeowner. Here is a tip for you: One of the biggest mistakes homeowners make with their landscape is not making a plan. When a landscape is installed piecemeal and with no plan, there is no visual consistency and it is noticeable. It also can create headaches later if plants or elements need to be moved. For example, perhaps you installed a small tree and did not anticipate it growing so big so quickly and it now needs to be moved because it blocks the view from the windows upstairs. It inevitably will cost more money to buy plants, install them, and then have to replace or move them later, at the risk of injury or death to the plant, than to get it right the first time.
Obviously, it is not in everyone's budget to totally renovate their property all at one time but it will save you time, money, and frustration later to invest a little effort now and create an all-encompassing landscape plan. It does not need to all be installed at one time but at least you have a goal to work towards.
If you have any questions or would like to schedule a free estimate, email us or give us a call at 407-935-9151.