Featured on HGTV's hit series Ground Breakers for turning a small, unusable back lawn into an elegant multilevel entertaining space.

We were chosen for HGTV's new series "My Yard Goes Disney" to transform four Orlando-area backyards into Disney-themed getaways!
Featured on A&E's hit show, "Fix This Yard," transforming the eyesore of Central Florida neighborhoods into the envy!

John served 8 years of honorable service with the Florida Army National Guard (1999-2007)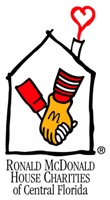 We support "Share-A-Night, Light-A-Light" & Yearly Clam Bakes.
Ronald McDonald House Charities of Central Florida (RMHCCF) finds, creates and supports programs that directly improve the health and well-being of children and families.

Created "The Art of Living Green" Tuscan Style Garden at the Epcot Flower & Garden Festival.

Sponsor of Building Homes for Heroes. We beautify the exterior of homes for wounded vets in Orlando.
Building Homes for Heroes provides individuals, corporations and others with an opportunity to help our severely wounded and disabled veterans and their families rebuild their lives. Many of these young men and women are coming home badly burned, with permanent and unsightly body disfigurements, missing limbs, the loss of sight or ability to walk, psychiatric conditions or paralysis.
Building Homes for Heroes is committed to supporting these extraordinary men and women, with a goal to build homes for families in dire need. We believe that it's our responsibility to support those who have been called upon to make the ultimate personal sacrifice — to protect and safeguard our country by fighting America's War on Terror.