Testimonials


"We just purchased a new home in the Maitland area, and much like all bank owned properties, the lawn was in horrible shape. The lawn had not been watered in months, and for the most part was not coming back.
We called John Madison Landscape to inspect it and give us a quote on new sod. Not only did John come out on a date and time that worked for us, but he also walked us through an entire explanation of what our options were. We felt very comfortable with him from Day 1, and that's why we decided to move ahead with John Madison Landscape.Shortly after signing a contract, the guys were in the very next sunny day, and knocked out all the work before I got home from work. The best part….there was NO MESS. All we could see is a beautiful new yard. I was so impressed with their work ethic and overall care of the plants around the house. I would highly recommend John Madison Landscape to anyone and everyone. They are one of the best companies I have dealt with thus far.
I can't wait to get more of my landscaping needs addressed by this wonderful company. They really do stand behind their products and workmanship through the entire process. And the fact that they background check all their employees via Ask The Seal put my mind at ease from the very beginning.
If you need any landscaping, hardscaping, pavers or exterior lighting — I would recommend you contact John Madison Landscape immediately! They are on time, and always within your budget!"
-Amanda B., Maitland, FL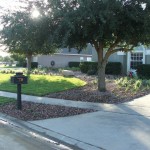 "My family and I want to take a moment to thank you for the excellent job your company did on our rather large landscaping project. Your employees, Chad, Chandler, and Nick, were always on time, addressed any questions we had, and worked incredibly hard to complete the project as scheduled. The landscape plan that you developed is gorgeous and exactly what we had in mind. As you know, we made some substantial changes to the original plan and your company still completed the project on time and within budget.John Madison Landscape is a company that not only delivers as promised but exceeds all expectations in terms of planning, quality, responsiveness, price and final product. We will certainly be recommending your company to our neighbors, family and friends."
-The Gallaghers, Oakland, FL
"Jana Banana and I LOVE our new back yard. Thanks John. We had about 30 people over Saturday night. We have the best yard in the subdivision. I don't know how you and your guys do it, but you do it well.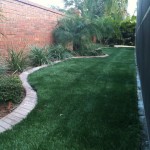 "
-Jason S., Windermere, FL
"I just wanted to take a moment to send you a BIG thank you for all of your help in making our Kohl's conference a huge success last week at The Peabody in Orlando. You and your crew were a
pleasure to work with both on a personal and professional level. Everyone loved how you were able to bring the beautiful Florida fauna inside! (especially since most of our time was spent in an air conditioned conference room! )
Please extend my thanks and gratitude to all of your team!"
-Marcy S., Kohl's Department Stores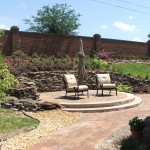 "Everyday that I look at my beautiful backyard, I am so glad we did this!"
-Diana T., Ocoee, FL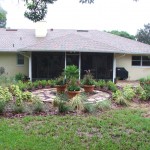 "We are very happy with it. You and your team- Chad, Chandler, all were fantastic. We will gladly recommend your company to everyone who will listen. We've already gotten compliments from family and neighbors."
-Tony E., Orlando, FL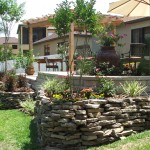 "John and his team at John Madison Landscape are consummate professionals when it comes to the landscape profession. They are extremely capable at each stage of the process- from beginning to end. What started out as a simple idea, soon turned into the focus of a Groundbreakers episode on HGTV. Even with that pressure and demand, John and his team were experts throughout."
-Michael & Paula R., Lake Nona, FL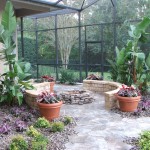 "Great job and we are loving the new space!! Thank you so much!"
-Kristy D., Longwood, FL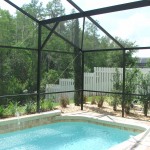 "The new website looks great. I'm one of the lucky ones that gets to enjoy your work every day when I hang out back in my pool. The photo gallery is absolutely beautiful."
-Kim O., Orlando, FL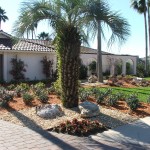 "We never made it to TV, but your "fix" of our yard has been stupendous. Smokin'!"
-Pam D., Orlando, FL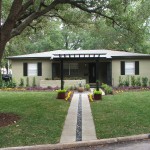 "I'm a producer for a television show and hired John Madison Landscape to renovate a front yard for the show. While my needs were different than the usual homeowner as far as the schedule went, the result needed to be the same, gorgeous. And it was!
The house had a sand pit for a front yard when we got there. John knew just the right plants to fill the space and keep with the modern theme the homeowners wanted. He also had an idea to build a modern arbor that is the focal point of the yard and the envy of the neighborhood. The homeowners were stoked! They are now getting pestered by neighbors to find out who redid their yard.
John and his crew could not have been easier to work with. Trust me. I tested their patience with my needs many times every day. They were so polite and accommodating. Plus they aren't bad to look at all day 🙂
I was so impressed with John Madison Landscape we hired them to do two more houses for the show. I live in Philadelphia, but if I were local, I would totally trust John to do my yard."
-Julia Picard Reusch, Producer, Nancy Glass Productions
As we reach the completion of our project I wanted to first and foremost say what a pleasure it has been to work with such a great group of professionals from your company. Working with contractors can be difficult but your team has been exceptional. Thank you.
D. Longstaff, Orlando, FL