Patios and Walkways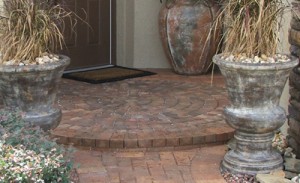 Our landscape designs vary to include everything from plants and flowers to rock gardens. Hardscaping is a low maintenance option to still keep an aesthetically pleasing outdoor area. John Madison Landscape is proud to partner with outstanding hardscape manufacturers to provide you with beautiful material.
Creating a serene walkway that guides you through a beautifully landscaped setting to deliver you a designated point like a patio or a pool is one of a Landscape Designer's biggest challenges. We at John Madison Landscape believe that we have mastered this difficult objective.
There are many different styles and types of materials available for these areas. Flag stone slate and pavers are the most popular. Flagstone slate is a much more natural approach to giving that serene look with many different styles and colors to choose from.
Pavers are less expensive, but still will give you that not so hardscaped look as compared to poured concrete, with many different shapes and sized to choose from.
If pavers are used, a little more attention is required for landscaping to make those hardscaped areas look more natural.