This past weekend was our Fall 2012 Orlando Home and Garden Show at the Orange County Convention Center! John Madison Landscape once again displayed a breathtaking booth, as well as was the presenting sponsor of the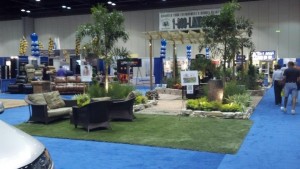 show's featured guest,  HGTV's Daniel Grady Faires of "Design Star" and host of "DanMade"! We all got to meet Daniel before his plant presentation on Saturday and he was a great guy who was knowledgeable as well as humble and very personable!
This year's show introduced us to many new and eager faces that have an interest in transforming their outdoor space into a beautiful natural getaway. These homeowners asked some great questions and wanted valuable insight as to what would work best in their yard, and we were pleased to listen and offer our expertise! We met some great people, as well as catching up with past customers who stopped by our booth to take a look around and show their support.
We enjoy using our booth space at these home shows to showcase the wide range of services we offer. Our booth this year included artificial turf, a water feature, pavers, a pergola, and a beautiful selection of plant material. This diversity caused many curious homeowners to come up and ask great questions, such as cost, best time to plant certain materials, what we offer, identities of certain plants, etc. It was great to help these homeowners along in the visual process of discovering what their own yards could look like. We look forward to seeing everyone at the next show in January! Until then, If you'd like a free estimate, feel free to contact us at 407-935-9151 or click here.