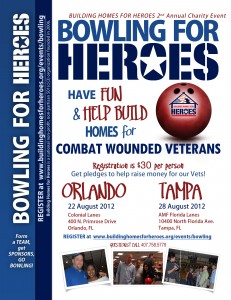 It's that time again! Mark your calendars for Wednesday, August 22nd when John Madison Landscape will be joining Building Homes for Heroes for their 2nd annual "Bowling for Heroes" event at Colonial Lanes in Orlando. Last year this event was a huge success and raised over $6,000 for wounded vets here in the Orlando area. This year we want to do it again but bigger and better! Everyone is encouraged to get pledges and help raise money for these families.
This year there will be two sessions of bowling: Session One will begin check-in at 5pm, and bowling starting at 6pm. Session Two will begin check-in at 7pm, with bowling starting at 8:15pm. Teams can be up to 4 people, with each person raising a minimum of $50 to help build a home for a hero. All team members must bowl during the same session. Pick a team name and then be sure each member of your team registers online; registration is $30 ahead of time or $40 at the door. Cost of registration includes 2 games, shoe rental, soft drinks, and pizza.
You can register for this event at by clicking here and if you have questions feel free to call 407-758-5779. Colonial Lanes is located at 400 N. Primrose Drive in Orlando. Download the pledge form and instructions and begin collecting sponsors, donations, and pledges! You can make an individual or team donation online before the event, or bring your team donation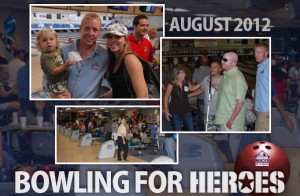 with you when you check-in. If you live in the Tampa area or would simply like to attend another bowling event, Building Homes for Heroes will be holding another Bowling for Heroes event at AMF Bowling Lanes in Tampa on Tuesday, August 28th. Form a team, get sponsors, and go bowling!