Terra cotta is a beautiful material that is commonly used for flower pots or outdoor decorations. But have you ever thought of using it to make your own outdoor water feature? It's quickly becoming a favorite among do-it-yourself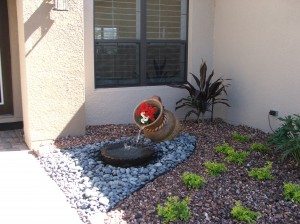 homeowners because of it's accessibility and wide variety of sizes. It has a very natural color and it's texture complements most any landscape style and design. It is also extremely easy to decorate and paint.
There are many options you have when it comes to what sort of water feature look you are going for. You could choose to build a topiary style water fountain for your patio by stacking three successively smaller pots and filling them in with river rock. Another option is to add bamboo stalks to a single, large terra cotta pot to create a Zen style water fountain. Or you may make a simple fountain for the edge of your pool or pond by placing a pot on its side and letting the water flow through it.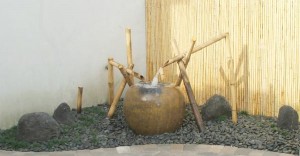 The ways to decorate a terra cotta plot are endless. You can use acrylic paints, colorful mosaic tiles, flat-backed cabochons (a precious oval stone), or glass beads to put your own personal touch on it. Terra cotta is a porous material so there are some processes that are required in order to seal it and to prevent it from freezing.
It's easy to build an outdoor fountain with terra cotta planters and saucers. For answers on what water features will look best in your yard, or if you're interested in a free estimate for landscape design, click here or call us at 407-935-9151.