On Tuesday, August 23rd, dozens of people came out to Colonial Lanes in Orlando to help support one great cause: Building Homes for Heroes. We had a great night full of bowling, raffles, food, drinks, and music, all to help raise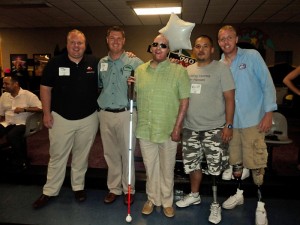 money for wounded vets and their families here in Orlando. WKMG Local 6, S&W Kitchens, and TheHomeMag were just a few of the many teams we had bowling with us for such a great cause.
Everyone loved the raffle prizes, the cupcakes sponsored by Cupcake Jubilee, and the free hats and t-shirts that were handed out! Pretty soon, the pizza and soda were flowing and bowling balls were flying down the lanes. Our wounded soldiers Sgt. William Castillo, Sgt. Joel Tavera, and Specialist B.J. Jackson were all in attendance, along with their families, to see firsthand all the support they have here in Central Florida. When it was all said and done, this fundraiser raised over $6,000!
We would like to thank everyone who was involved in helping put on this tremendous event, especially our own John Madison, Debbie Pennington-Garcia, Tim Behm and
Amanda Benson. We also want to thank all our bowlers and sponsors, including Local 6 Morning News, Colonial Lanes, Cupcake Jubilee, SamJay Media, The Home Mag, Modern Plumbing, S&W Kitchens, ACE Electrical, John Madison Landscape, Inc., Kaltbaum Capital Management, PCL Construction Inc., Ask the Seal, Florida Hospital, Orlando Rentals, and Venture Brick Pavers. We also want to recognize our top two individual fundraisers, Natalie Mcdougal-Franceschi and Mayra Gonzalez; we couldn't have done it without you! Hope to see everyone again next year!