On Saturday, April 2nd, John Madison Landscape teamed up with our friends at Little's Photography to create a special booth at the Spring Fiesta in the Park at Lake Eola that showcased both company's specialties. The event in downtown Orlando featured art from all over the United States including ceramics, jewelry, glass, painting, graphics, wood, sculpture and more. We thought it was a great way to reach more of our clients, while enjoying a beautiful spring day outside!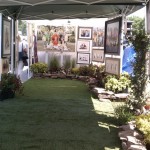 We already personally know the beauty that Little's Photography captures with their second-to-none portraits, and we wanted to help them showcase that with complementary landscape and plants that added to the ambiance. In turn, their striking photographs helped intrigue passersby and provoke them to come check out our booth, with interest in both their pictures and our landscape!
It was a day of arts, crafts, and fun that everyone enjoyed. If you missed us out there, continue to check our Facebook page, to see where we'll be next! We had a blast and hope to continue to work with Little's Photography in the future!