Building Homes for Heroes and John Madison Landscape is proud to announce another 2011 homecoming celebration to welcome Army Sergeant Joel Tavera to his new home in Tampa, Florida! On Saturday, November 19th, 2011, after more than 75 surgeries,and nearly four years of hospital care, this extraordinarily courageous young man and his family will be moving into a beautiful 4-bedroom, 4-bath home that meets all his needs. Joining in the celebration will be high-ranking military personnel, local dignitaries, community members, etc. Tavera will be welcomed home in patriotic fashion. The event will begin with a magnificent procession along flag-lined streets leading to Joel's home. The procession is scheduled to step off at 10:00 am.
On March 12, 2008, Sergeant Tavera was riding in an armored SUV inside the Tallil Airbase in southeastern Iraq when it was struck by five rockets. The blasts killed three of his buddies, and Tavera was thought to be dead as well. He lost sight in both of his eyes, his right leg, four fingers on his left hand, and suffered very serious head trauma and critical burns to 60 percent of his body. At the time, his parents were told that their son was the second most severely injured Army soldier to survive since the war in Iraq began. Joel received The Purple Heart and Bronze Star.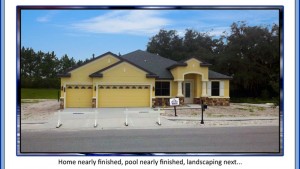 The ground was broken on March 25th, 2011, for the home, which is in the Grand Hampton community, for the severely injured Iraq war veteran who turned 24 the day before the ceremony. The $450,000 home, with special modifications, was made possible through the nonprofit BuildingHomesforHeroes.org, along with contributions from the builder, William Ryan Homes, and local firefighters, contractors and others. John Madison Landscape was proud to provide the landscape for the exterior of the home. For more information on Sergeant Joel Tavera's Homecoming, contact Carolyn Paszke at (516) 684-9220 or Carolyn@Buildinghomesforheroes.org. For all media inquires please ask for Andy Pujol.