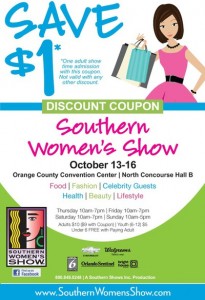 John Madison Landscape is proud to be a part of the Southern Women's Show once again! The Southern Women's Show takes place Thursday, October 13th- Sunday, October 16th at the Orange County Convention Center. The Southern Women's Show is filled with the things that every woman loves: jewelry, purses, make-up, food, and much more! In addition to these, there will also be runway fashion shows, cooking classes, and entertaining speakers. Women all across Central Florida will be flocking to the Convention Center for 4 days of jam-packed fun geared especially at women! Tell your moms, wives, sisters, and best friends, and make sure they visit our John Madison Landscape booth!
Admission for the event is $10 at the door, or click here or visit Walgreens for advanced tickets for only $9. Groups of 10 or more that purchase advanced tickets online can get them for $7.50. Youth ages 6-12 are $5, and children under 6 are free with a paying adult. Also, if you plan on attending more than 1 day, there is a readmission special, where your second day admission can be purchased for just $5 during your initial visit (with your ticket stub) at the show entrance. The hours of the show are Thursday-Saturday 10am-7pm, and Sunday 10am-5pm. Parking is $8.
The Southern Women's Show also includes some great networking events and speakers. Friday morning, October 14th, there will be a "Rock Your Brand" Meet the Media networking breakfast. Guest speakers Kristy Villa from Lifetime Television's The Balancing Act and Martha Pullen, founder of Martha Pullen, Inc. will be mingling and networking with attendees. You can also click here to win $100 to spend at the show courtesy of American Laser Skincare. This show is going to be one that you're not going to want to miss, and you have to be sure to stop by their fantastic home and garden section. That's where you'll find the John Madison Landscape booth, along with a  ton of other vendors with ideas for both you and your home to look great. We can't wait to see all you lovely ladies there!