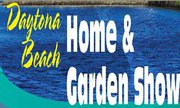 John Madison Landscape is a busy bunch! This Friday-Sunday, September 23rd-25th, we will be participating in the very first Daytona Beach Home and Garden Show presented by East Coast Consumer Shows. We are thrilled to be branching out to our neighbors to the north, and not to mention spending the weekend in beautiful Daytona Beach, FL! This year's show will feature Brandie Malay of HGTV's "Hidden Potential" and NBC's "Today Show." Both the 2011 Daytona Beach Home and Garden Show and the Daytona Boat Show will be under one roof, so it's sure to be a great time!
The show will be held at the Ocean Center, 101 N. Atlantic Ave, Daytona Beach, FL 32118. The hours are Friday and Saturday 10am-7pm, and Sunday 10am-6pm. Cost for adults is $7 per day; children under 16 years old are free. Seniors 60+ are $2 all day, every day. There is a $3 discount coupon available in Hometown News and all weekly publications, or click here to download a web coupon!
Whether it is a small home improvement project, new construction or a major renovation, the Daytona Beach Home and Garden Show is the best place to improve your greatest asset, your home. The Daytona Beach Home and Garden Show will present to you the area's most elite contractors in all categories under one roof. This show offers everything for in and around your home. Exhibiting 100's of new products, 1000's of great ideas! The show will feature celebrities from HGTV as well as local pros to guide you through your home improvement projects. Hope to see you there!