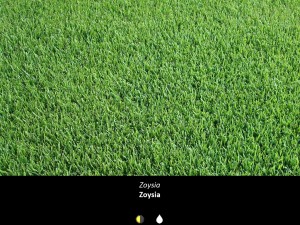 There are 3 main varieties of sod that we at John Madison Landscape typically install. It is important for homeowners to know the difference between all three so that we can help them determine what will meet their needs and work best in their yard. For example, does your lawn get little to no sun? Does it get drenched in inches of water every time it rains? The environment of your grass is very crucial to selecting the best type of sod that will thrive in your yard. Here we will highlight the three main types of sod & their differences so that hopefully you will be able to pick a grass that you will be happy with for a long time!
Zoysia: Native to southeast & east Asia & Australia. Can tolerate wide variations in temperature, sunlight, & water, therefore is used in temperate climates. Grows so well in Florida because it thrives during the warm, wet summer & is dormant in the drier, cooler, winter months. Requires less fertilization than St Augustine & is less prone to fungus & insect damage.
St Augustine: Warm season lawn grass that is popular in tropical & subtropical regions. Medium to high-maintenance, thick, and dark green. Originated in North America & is found in the southeastern US, as well as Mexico & Central & South America. Breeds best in tropical climates
Bahia: Tropical to sub-tropical perennial grass, which means it lives more than two years. Low growing and native to Mexico & South America, but has been naturalized in North America & other places. Prefers sandy soils & is tolerant of shade. Fairly hardy; tolerating drought & salty conditions very well. Relatively low-maintenance, with less insect & disease problems than some other warm season grasses.
If you are simply looking to have sod installed in your yard with no other landscaping necessary, John Madison Landscape is pleased to provide you a quote over the phone so you can get the ball rolling without having to wait for someone to come out and give you an estimate. If you would like an estimate on sod installation, or any other outdoor project, click here or call us at 407-935-9151.