If you're a homeowner, especially a do-it-yourself-er, you may have heard of Hometalk. Hometalk is an online community of regular people and home improvement experts who love to talk about…you guessed it… home improvement! You can get virtually instant answers to questions about your home & garden, search photos and tips for inspiration and information, post photos and grow a fan base for your very own home, get real & reliable reviews of local contractors, and see tips from local businesses. As for us here at John Madison Landscape, it's another way for us to interact with our customers, fans, and Florida homeowners in general who have questions on their landscape. John himself posts frequently on there with advice, tips, and how-to's that you can't find anywhere else!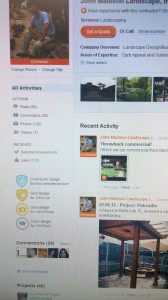 Hometalk is a great tool for homeowners and professionals alike. Experts like John Madison use Hometalk's platform to showcase their knowledge and expertise, while homeowners use it as both a search engine and a forum to get unbiased, credible information, referrals, and advice from professionals and other experienced and involved homeowners like themselves. It is an innovative, first of its kind website, where homeowners, renters and contractors come together to share photos, pricing, advice and feedback, all for FREE.
So look for John Madison Landscape on Hometalk and sign up to join this informative online community. You'd be amazed at all the things you can find answers to, pictures you can post of do-it-yourself projects, or advice you can get on who to hire for your next big project. Since 2005, this website has become a great source of information and camaraderie among homeowners and contractors alike. Check it out and let us know what you think!