On the next episode of "My Yard Goes Disney," airing tonight at 8pm on HGTV, we met Tim & Tracey Farrell and their children. They are all Disney, all the time, both on land and at sea. The whole family says that the memory of spending a week on a Disney cruise line was "the most amazing week of our lives." What they wanted more than anything is to bring the experience they had on the Disney Dream  into their backyard.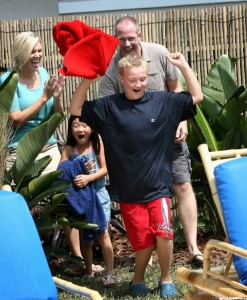 And that's exactly what they got when they were chosen to be a part of HGTV's new hit series, where John Madison Landscape helps transform Orlando-area backyards into Disney-themed getaways. The producer called "and I screamed and shook for half an hour," Tracey Farrell said. "I just couldn't believe it. I've watched HGTV forever."
The family has a small yard, which created a challenge to make this family's dreams come to life. The John Madison Landscape team takes on the trial effortlessly, helping to dig a pool shaped like Mickey Mouse, complete with a slide. There's also a stage for their 6-year-old daughter Molly, who loves to perform. For her brother Chatham, there's a special zip line perfect for an energetic 10-year-old. This backyard transformation also features an amazing Disney-inspired fountain with lots of special family touches. You'll have to tune in tonight to see the rest!