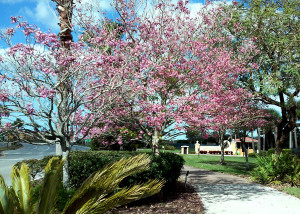 The tabebuia trees are in bloom… in Central Florida that means that spring time is coming! Here in Central Florida most landscape projects can be done almost any time of year, but spring is always a great time for planting, the plants are ready to show their best!
With spring comes color and color means annuals, so I thought I'd share some of my favorite spring annuals.
Begonias
There are hundreds of varieties of begonias with flowers shades of white, pink, red, yellow, and orange with many different and interesting leaf patterns. Most of the ones you will find in local garden centers are limited to white, pink, and red. But don't let that stop you from planting them, begonias will give you a steady show of flowers and wax varieties handle the heat of summer fairly well often looking great through the summer into fall.
Dianthus
Another prolific bloomer, dianthus may not last into the summer heat quite as well as others, but can be planted earlier. The variety of flowers always amazes me with different combinations of white, pink and red patterns; single and double flowers.
Impatiens
Plant impatiens in shady or partial shade spots for splashes of color. The New Guinea varieties do well in sunnier spots, but still appreciate a partial shade here in Central Florida.
Pentas
Pentas come in white, and several shades of pink and red. They are usually fairly pest and disease free, though when stressed the are more likely to develop problems. One of the reasons I like pentas is that even though they are considered annuals, the will often survive through the summer and sometimes even through the winter.
Salvia
Salvias offer something most other spring annuals don't… the color blue!  They come in red, orange and purple too.  Salvias tend to like the heat and are considered drought tolerant, often wilted looking salvias just need a good drink of water and some cooler evening air to perk back up.
Zinnia
Again Zinnias have hundreds of colors and sizes to choose from yet are fairly drought tolerant. Use in masses of color, or mix colors and sizes for an informal look.

Ornamental Potatoes
Ornamental Potatoes are another annual that will usually grow year round in Central Florida. While they don't have the showy flowers of other annuals, they are great for trailing over the sides of pots, hanging baskets and retaining walls.